'47 Brand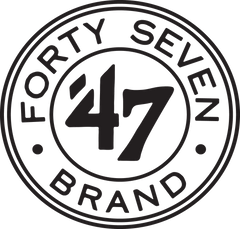 '47 is a sport lifestyle brand based out of Boston, USA
In 1947, twin brothers and Italian immigrants, Arthur and Henry D'Angelo founded Twins Enterprises, now '47. The D'Angelos were entrepreneurial pioneers who were quick to see the future of sports licensing by selling pennants and other sports memorabilia on the streets around Fenway Park. Through a combination of hard work, sound instincts and incredible passion, the brothers were able to grow their business from a single street cart to a premier sports lifestyle brand that uniquely melds sport and style.
By continuing with the tradition of producing a unique mix of the finest headwear and apparel and maintaining an unparalleled attention to detail, we have established ourselves as a premium global sports lifestyle brand. We are proud to be a licensed partner with the four key professional American sports leagues: MLB, NFL, NBA, NHL, as well as over 900 colleges.

As the second generation moves '47 forward, we will never forget where it started - rooted in family values, focused on genuine relationships, and the simple belief that the future is what we create.